Our Community
Abbeyfield Southern Oaks is deeply interconnected with the local community on many levels in the spirit and practice of our vision and values. Residents, employees, trustees, volunteers and service professionals are all drawn from the local area.
Here you will find information about trustee vacancies, useful information and events programmes at our houses. 
Part of Your Community
Get Involved.
Our Trustees come from the local community and have a wide range of professional backgrounds.  If you feel you would enjoy being part of Abbeyfield Southern Oaks and have skills and experience to contribute, then we would like to hear from you.
Administration Office:
020 8394 0050
Abbeyfield Southern Oaks
Nonsuch Abbeyfield
Old Schools Lane
Ewell
Surrey
KT17 1FL
Contact us for an informal conversation using the form below.
Families and Sponsors
Families and sponsors
Each new resident has a sponsor who is responsible for the resident's affairs should the resident become seriously ill or need more personal care than can be provided by Abbeyfield Southern Oaks. For most residents, their sponsor is a member of their family.
Our residents' families and sponsors are critical to their health, welfare and happiness during their stay with Abbeyfield. Families and sponsors are involved in helping to prepare and support the resident through the difficult process of letting go of their own homes and getting settled in their new accommodation. 
Sometimes families and sponsors will have the challenge of agreeing arrangements when and if the need arises for them to move into residential care or nursing home. 
The continuity and consistency of support from people a resident knows well also helps us to ensure that the resident gets the most from his or her time at Abbeyfield. Our volunteers and staff work closely with families and sponsors to the best interests of the resident a priority.
Local Churches - Links
We maintain a close relationship with the local churches. Whilst our roots are in the Christian tradition (see below) we welcome all faiths and no faith equally.
St Andrew's United Reform Church
The church is just a few hundred yards from York Road and about a mile from Mulgrave Road.
The Society was set up by the members of the congregation of St Andrew's URC over 30 years ago. Many members have served on Abbeyfield Southern Oaks committees and contributed as volunteers. 
For the last few years, the Society has sponsored a Chaplain for Older people in partnership with St Andrew's. Many of our past residents have chosen to join the congregation.
The Society is and has always been enormously appreciative of the continuing support and friendship of the St Andrew's congregation.
is very active in the local community with various activities and meetings including their Mid-Week Focus group, especially tailored to the needs of older people, which meets most Wednesdays for coffee, often with a visiting speaker and then continues over lunch. Their Spring 2019 programme can be found here.
Local Council Support - Links
Mulgrave Road and York Road are located within the London Borough of Sutton.
The Old House is in the Epsom and Ewell Borough Council area.
Purley Knoll is in the area of  Croydon Council
Some of our residents may be able to receive support from the local council through Housing Benefit and Supporting People arrangements.
Abbeyfield Southern Oaks has been accredited as a provider of sheltered accommodation for which Supporting People grants are available.
North East Surrey Group
Preview Application Form
You can preview our application form for permanent, short and respite stays here.
The house fees and rental are reviewed each year in March. They are valid from 1 April to 31 March each year. If you become a resident part way through a year then your fees and rent will not be reviewed until the start of the following year unless you move to a different room which is a different price.
Organisation
Abbeyfield Southern Oaks is a not for profit organisation. We are affiliated to The Abbeyfield Society, but we are independent and run our own affairs.
Abbeyfield Southern Oaks pays an annual affiliation fee to The Abbeyfield Society and enjoys the benefits of a national brand and access to knowledge and networks of good practice.
The Abbeyfield Society is an umbrella organisation for a national network of Abbeyfield homes. Some of these homes are owned by Abbeyfield UK. Others are owned by local independent affiliates. Abbeyfield Southern Oaks is one of those societies which are governed and managed locally and operate in accordance with standards promoted and monitored by The Abbeyfield Society.
There are other independently run houses in the area which are part of the Abbeyfield family. They are 
Abbeyfield House, 34 Somers Road, Reigate, RH2 9DZ
Abbeyfield House, 2 Beechwood Road, Sanderstead, CR2 0AA
Abbeyfield House, 107 Woodcote Road, Wallington, SM6 0QA
Wendover House, 266 Chessington Road, West Ewell, KT19 9XF
Regulation and Oversight
Regulator: Housing Corporation H1185 
Registered Charity Number 247308
The company is limited by guarantee, registered in England and Wales. Registration Number 734705
ICO Registration Number: ZA472736 

Click to see Accounts of Abbeyfield Southern Oaks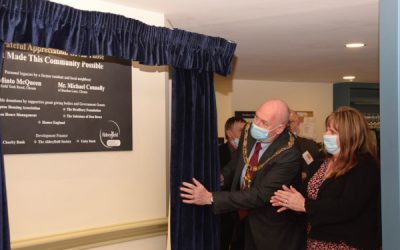 The Worshipful Mayor of Epsom and Ewell Peter O'Donovan unveils the plaque marking the opening of Nonsuch Abbeyfield. Beside him is the Mayoress Mrs Sarah O'Donovan. The event was attended by Andrea Mclean who cut the ribbon,...
Company information and regulation
Abbeyfield Southern Oaks is a not-for profit charity. We are both affiliated to The Abbeyfield Society and independent.
Registered Office: Nonsuch Abbeyfield, Old Schools Lane, Ewell, Surrey, KT17 1FL
Registered Charity Number: 247308
The company is Limited by Guarantee and registered in England and Wales: Registration number 734705
Housing Act Number: H1185
ICO Registration Number: ZA472736
Telephone: 020 8394 0050