We're recruiting now...
VACANCIES – Full-Time and Part-Time
Our new retirement village Nonsuch Abbeyfield opened in January 2020.
We are recruiting for full-time, part-time and volunteer vacancies NOW.
As our new retirement village is nearing completion and we are preparing to welcome the first residents. We have a number of full-time and part-time vacancies to fill.
We are also extending our volunteer team to help cement new relationships between the village and the wider community.
Please share this page with friends and family using the share buttons on the left.
What our residents say
"I moved into Abbeyfield Purley 6 months ago and would highly recommend living here. I like the social side of having people to talk to and having our meals together while also having my own room and space. Brenda the house manager is a lovely person and has really helped me settle in here after my husband died, plus Gill and Anthea too."
What our residents say
"Mel and the Abbeyfield team were very helpful when I was looking to move here, arranging visits so I had a good feel for living here and making my move go smooth.
The Friends of Abbeyfield put on social events like games evenings and outings for example to the garden centre."
What our residents say
"I like Abbeyfield being near the centre of Purley, close to Tesco and other shops, bus stop and Purley library. It's living in a community but with the freedom to continue with activities outside the house if you wish."
What our residents say
"Abbeyfield supplies the best of all worlds.
The feeling of comforting support and the freedom to spend one's time as wished are much appreciated, as is the pleasant accommodation. These coupled with the pleasure of mealtimes shared with extremely friendly residents, excellent food expertly prepared by the House Manager, for whom it seems nothing is too much trouble makes Abbeyfield a great place to be!"
What our residents say
"I was made most welcome by Committee members, staff and residents. I also appreciate the friendship of my 'shadow' – a wonderful bonus." 
What our residents say
"We have our own space and are able to do our own thing, which has always pleased me. The Housekeeper plays a big part in this, advises if requested, but never interferes. I enjoy the outings and visits to see my grandchildren. I also look forward to visits from my 'shadow', who calls regularly."
What our residents say
"I received a very friendly welcome when I came to Abbeyfield both for my trial week and now permanently.
Brenda did everything she could to make the move an easy one. – answering questions and explaining anything I didn't understand.
The other residents were and are very friendly. Everyone seems interested in all that is going on.It is also a great blessing to have so many volunteers interested in helping in many ways."
Resident – Purley Knoll
What families say
"Pre-Abbeyfield Mum didn't have any social interaction, so her life has been enriched here." (son)
What families say
"She particularly liked being in the spacious garden, being able to potter about and tend the beds.  She has enjoyed the social side of being in Abbeyfield Purley Knoll, especially the opportunities to visit garden centres and Anne Carrington's home and garden.  She has made good friends with many of the staff and committee members over the years.  I know she hoped to live out her years at Abbeyfield but unfortunately her dementia has meant she needs 24 hour specialist care now.  Adaptations such as arranging carers to help with medication were accommodated which meant she could live at Purley Knoll for longer, which I think she has appreciated.  She has been able to live more independently that she would've done for this long by having the support of the staff at Abbeyfield, and this has meant she didn't need a Care Home until now.  For this the family are very grateful. " (granddaughter)
What families say
"My father has now been a resident of Abbeyfield House in Purley for a few months, and I cannot praise the house and the organisation enough.
It was a difficult decision to move dad into a residence, but it has been a great success all around. The office administration and Brenda (the house manager) all worked very hard to ensure a smooth transition into Abbeyfield for us all.
Dad quickly settled into the house and has found he has his independence back due to the location of the house being so close to the town centre. He can now get to the doctors, shops and his club all by walking, which has been excellent for his health and well-being.
I would happily recommend Abbeyfield to anyone – it really is a home from home, and when it sadly becomes too difficult for an older person to stay alone, it is the absolute best alternative to their being in their own home.
T. Delgrosso (daughter of resident)
What families say
My mum, Emily, is nearly 97 and fiercely independent. She has lived in her flat for the past 36 years and had no intention of moving under any circumstances. However, after a fall her flat became unsuitable for her and I had to find somewhere for my mum.
After lengthy discussions about care homes, sheltered housing etc, I decided to go for assisted living much to her disgust.
After the two week trial period we were well on our way to settling, and much to the family's surprise, this is the best thing we could have done for her. My mum is really settled in her room now and the social isolation she was experiencing at home is long gone. This gives me peace of mind.
The whole experience has been good for everyone. I just wished we had persuaded her sooner.
The house is ideal: a small number residents which is perfect since not everyone wants to go into a big, rambling home. It's homely, and my mum thinks Tracey the house manager is the best thing since sliced bread.. so I'm now obsolete!!
Many thanks to those that made it an easy transition . Carol Message, August 2019
A Special Story
I became a resident in August 1998 and since then 2 Purley Knoll has been my home for 20 years, and I have seen the building enlarged with a beautiful garden and conservatory lovingly created, the Committee work tirelessly arranging fund raising events, garden parties, games and fitness routines.
Abbeyfield made a great fuss of me when I became 100 years old. Yes, I received my letter from the Queen. My birthday cards and pictures remained strung out across my wall for a year or more. It was nearly 20 years to the day
when I had to leave Abbeyfield, nearing 104, I was not able to live as independently or as safely as I could without extended support.
Abbeyfield retained my dignity and privacy and maintained in house companionship in equal measure. My weekly Church magazine brought to me by a Volunteer from the House Team kept me in-touch with my faith. These Abbeyfield years were most happy and many who knew me could and would pop in to see me, but the list gets shorter each year.
O.H Purley Resident 1998 – 2018.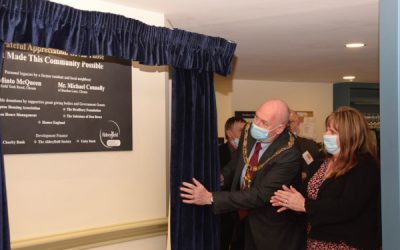 The Worshipful Mayor of Epsom and Ewell Peter O'Donovan unveils the plaque marking the opening of Nonsuch Abbeyfield. Beside him is the Mayoress Mrs Sarah O'Donovan. The event was attended by Andrea Mclean who cut the ribbon,...
FAQ
Frequently Asked Questions
What is 'supported housing'?
Supported housing is for people who are still able to care for themselves and wish to remain independent. They most likely do not want the responsibilities of maintaining a house or flat or a garden but they are not ready to go into a care home. They may also like extra support for things like meals, cleaning and most of all they would like the company of others if they wish. Our supported housing offers that extra help: someone around to offer a bit of security in case they fall or feel unwell. Supported housing is not for people who need more dedicated care. Supported housing is offered at The Old House, Purley Knoll, York Road and Mulgrave Road.
What is 'independent living with extra care'?
Our new facilities at Nonsuch Abbeyfield will offer much greater support for different degrees of independence. We understand that people want to stay in their 'own home' for as long as possible and Nonsuch will offer a wider range of services so that people can stay independent for longer. There is a mix of leasehold and rented apartments which are arranged around a community hub.
You can see much more about the services on the Nonsuch Abbeyfield website.
Is it possible to stay for a while to see if I like it?
Yes! So often people are very reluctant to give up their own home and it takes time to adjust to the idea. We support potential residents and their families in helping with that transition. Staying with us is often the good experience that helps with the decision to become a permanent resident.
We have a four stage process:
1. A viewing of available rooms at the houses.
2. An invitation to lunch to meet the other residents.
3. Completion of our application form to ensure we are a good fit for each other. If you decide to proceed to the next stage, we can arrange a short stay.
4. If all goes well, we agree a date when you can move in.
Can residents have pets?
We do understand how important pets are to older people and we welcome visiting dogs at with their owners. Sadly, we are unable to cater for resident dogs or pets at the houses. Pets will be very welcome at the new development, Nonsuch Abbeyfield.
How often can residents have guests?
As often as they like. Friends and family can join residents for lunch or supper (a little notice is required). In summer the gardens are a glorious place to meet with friends over a cup of tea or a gin and tonic.
Is it possible to have a microwave?
Yes. Each room has a small kitchenette for the preparation of breakfast, drinks and snacks. Residents make their own breakfast which means they are free to choose their own time according to their personal routine.
What happens if I need an operation and some time recuperating?
If you need in-hospital medical treatment and you require extra help for a period, then we work with you and your family or sponsor to make arrangements for that extra care. We do not have facilities for full-time nursing over an extended period.
What other services are available?
Each house has a chiropodist and a hairdresser who visit regularly. Some residents like help with cleaning their own room.
Abbeyfield Southern Oaks requires all contractors, paid by them, to have appropriate insurance cover and a current DBS.
Residents or whoever pays for a service, other than by a Abbeyfield Southern Oaks contractor, for work inside their apartment/bedroom need to make their own safety checks that the person has appropriate insurance cover plus a current DBS certificate and inform the House & Operations Managers of the person's details for fire and insurance purposes.
How much is the rent and charges?
The rental varies from house to house and room to room. There are a small number of rooms which are not en-suite and they attract a lower rental. There is a one-off charge which includes rent, services charges for maintaining and repairing the house, staff costs, 2 home-cooked meals each day, cleaning and care of the common parts, utilities and council tax. Residents cater for their own breakfast and drinks and each room has a small kitchenette. The only extra charge would be for your own phone line and for any additional care needs. For a full breakdown, please contact us.
How often is the rental increased?
A rent review takes place annually in March and is effective from 1 April in each year. However, if a resident joins the community part way through the year then their rent will not be reviewed until the following year's review. For example, if you join us in June 2019 then your rent will not be reviewed until 1 April 2021.
What kind of activities are available to residents?
There are so many activities organised both for and by the residents. It is an essential part of what we do to support social interaction to maintain good health, physically, emotionally and spiritually. Residents have frequent gatherings over coffee and tea, there are exercise classes, games and crafts, volunteers are regular visitors to help with new skills or assist with projects. There are frequent visits to other Abbeyfield homes, trips out to the coast or other places of interest, birthday parties, entertainers, the list goes on and we are always looking for new ideas to keep our lively residents on their toes.
How much interaction is there with the other houses?
There is already a good deal of interaction with other houses and this will become more frequent when the facilities at Nonsuch Abbeyfield are commissioned. Nonsuch is designed as a community hub with a full range of rooms and services including a cinema with comfortable seats, a spa, hairdresser, spaces for musical and craft activities and a restaurant.
What are the parking arrangements?
There is on-site parking at The Old House, Purley Knoll and Mulgrave Road and additional on-street parking at no charge. Purley Knoll also has pay and display. York House has on-street parking.
Can residents invite guests for meals?
Yes they can. We encourage residents to stay in touch with friends and family. Joining for lunch or supper is a very good way of sharing their life with friends. We ask for a little advance notice so we can make sure we cater for everyone!
How should I complain if there is a problem?
We have a very simple complaints procedure which you can download by clicking the link below. "Complaints Procedure"
Company information and regulation
Abbeyfield Southern Oaks is a not-for profit charity. We are both affiliated to The Abbeyfield Society and independent.
Registered Office: Nonsuch Abbeyfield, Old Schools Lane, Ewell, Surrey, KT17 1FL
Registered Charity Number: 247308
The company is Limited by Guarantee and registered in England and Wales: Registration number 734705
Housing Act Number: H1185
ICO Registration Number: ZA472736
Telephone: 020 8394 0050