Our Mission
To enhance the quality of life for older people.
Supported independent living providing companionship and social interaction to diminish the effects of loneliness and isolation that can be experienced by older people.
The well-being of our residents is central to everything we do. Every individual is treated with dignity and respect. We also care for our staff and volunteers. Abbeyfield Southern Oaks is a society where people can grow and find fulfilment.
As an organisation we encourage and support new ideas from our residents, staff and volunteers. Through discussion we learn and appreciate each other's differences and adopt suggestions to improve the service that Abbeyfield provides. We are open to change, and take the opportunities that allow us to continue working towards our purpose.
We will each lead by example so that our staff, volunteers and our residents can have confidence in the future of Abbeyfield Southern Oaks.
We respect each other as individuals and we value each others views, beliefs and background. We work hard to develop relationships with our residents, staff and volunteers and the communities in which we operate.
The Trustees of Abbeyfield Southern Oaks remain true to the fundamental principles and values that have served our residents well for over half a century. Through our current investment in Nonsuch Abbeyfield, our services are being enhanced to reflect the different lifestyle preferences and longer life expectancies of older people in the 21st century, and extended by our offer of supportive and respectful care services to older people living in the local community. We will continue to look to local volunteers to help us create and grow this Abbeyfield community in a unique and caring way.
I am in awe of the commitment and hard work of our Trustees, Staff and Volunteers in making all this possible.
– Graham Walker, Immediate past Chair
Who We Are
Our Trustees
Our Trustees have backgrounds in many areas of business and society. We are extremely fortunate to have their time and skills to guide us in achieving our charitable aims and to anticipate and plan for future needs in our community. They give very generously and without their commitment is would be an impossible task to provide the quality and service that we do.
Our Staff
We are equally fortunate with our teams of people at each of the houses and in our administration office who always go the extra mile to ensure the needs of our residents are met. Some of our house managers have been with us a long time and we know that our residents appreciate the continuity of care.
Our Volunteers
Some of our volunteers have been working with us for over 30 years and others have joined only recently. Their ages range from 17 to 84 bringing both the enthusiasm of younger years and the wisdom and empathy that comes with getting older.
Graham Walker
Acting Vice Chair
Nigel MacDonald
Acting Vice Chair
About Nigel
Nigel is a Chartered Accountant and former senior partner of an international accounting firm. 
He is Chairman of the Awareness Foundation, a charity concerned with building understanding between faiths. 
He served for 11 years on the Board of Coca Cola Hellenic, a FTSE 100 company, and for a similar period before that as a Director of the British Standards Institution. 
Nigel was a member of the Monopolies and Merger Commission, and then the Competition Commission, he has advised the government on many accounting and business issues. He is currently Chairman of James Lock & Co Ltd, one of the country's oldest businesses. 
About Anne
Anne was a Domestic Science teacher for 10 years. She is married and had 3 children while overseeing the running of the canteen at the Carrington family factory. She became Company Secretary in 1993.
She joined Abbeyfield Purley Society as a volunteer in 1987, becoming House Chair before becoming Chairman of the society which ran four sheltered houses. During this period she was also Deputy  Chairman of the South East Region of Abbeyfield, with the responsibility for training.
Currently Trustee of Abbeyfield Southern Oaks responsible for residents and volunteers.
About Vacancy
About John
John joined Abbeyfield Southern Oaks in 2022 and is the Trustee who oversees matters relating to the Society's properties.
He has been a senior manager in the Audit Commission,  various London local authorities, social housing providers, and consultancies working for the public sector.  John has wide-ranging experience of housing management, environmental health, regulatory services, and community safety, and has  managed national programmes to introduce new legislation, and assess the performance of  local authorities and other public bodies.
Nick Shore FCA
Vice-Chair
About Nick
Nick Shore FCA
Nick is the Financial Trustee for Abbeyfield Southern Oaks, and has been since 2015.  He graduated from the University of Kent with a BA in Accounting in 1974 and worked for Arthur Andersen from 1974 to December 2001 at various levels including partner dealing mostly with  international personal tax. He became a Fellow of the Institute of Chartered Accountants in England and Wales  in 1982.
Nick was a director and shareholder at Frank Hirth PLC  from January 2002 and was based at the New York office between 2009 and 2012. He retired in April 2014 and currently acts as a Trustee for a series of related family UK trusts and works closely with Investec as investment advisors and sits on the Board of Althea, a US based international charity. A keen rugby fan, Nick was Treasurer of Old Caterhamians RFC between 1975 until 1993
About Doug
Doug is an experienced marketing and communications professional, with over 25 years' experience within professional services,  financial services  and technology sectors.  During his career he has held senior marketing and business development roles at QAS (an Experian Company), SHL (now part of Gartner), Airclaims, McLarens and Charles Taylor plc.
He was treasurer for The Avenue Primary School PTA between 2008 & 2011, a member of the Parent Focus Group at Wallington High School for Girls, and has been a judge for the B2B Marketing Awards.
In addition to the trustee role at Abbeyfield Southern Oaks, he is Global Head of Marketing & Communication of an international firm of commercial insurance loss adjusters.
Dr Malcolm Wakerley
Trustee
About Malcolm
Dr Malcolm Wakerley FRSC OBE
Malcolm Wakerley worked as a chemist in the nuclear industry, consultancy and Government and was mainly concerned with protecting the public from nuclear and radioactive wastes. After Sept 11, he was also heavily involved with project management of Government research related to protecting the public from chemical and biological wastes. He became involved with Abbeyfield Epsom some 10 years ago, when his mother became a Resident at the Old House in Ewell. He joined the house committee and soon became House Chairman. Upon joining up with Abbeyfield Cheam to form Nonsuch Abbeyfield he also took on the role as one of the vice-chairs of the enlarged Society. He has been involved with the Old Schools Lane project from initial negotiations with The Abbeyfield Society to the current day and chairs the development sub group liaising with our partner Epsom Sports Club.
About Vacancy
About Sue
Sue has a background in Health and Wellbeing, with extensive category management, commercial and change management experience within retail pharmacy .
She worked for Alliance Pharmacy and Boots the Chemists in their retail UK and international businesses for 30 years and for Alliance Healthcare in their wholesale business for 10 years.
Sue founded the Alphega Pharmacy franchise concept in the UK, which has since grown to 1000+ independent retail pharmacy members. Now retired, she continues to advise individual independent pharmacy businesses.
In addition to being a Society Trustee, Sue supports both the Company Secretary and the Programme Manager.
About Stephen
Stephen ( Steve) is a Fellow of the Institute of Hospitality who has spent over 40 years in the hospitality industry with jobs ranging from chef of a Mexican restaurant in California, running game reserve and city centre hotels in South Africa where he spent 14 years and running catering operations for London Universities with 12,000 students
He is currently responsible for feeding 1,200 people in 2 Independent Schools
Passionate about customer service and staff development.
Since the pandemic he has volunteered for St John Ambulance administering approximately 5,000 Covid 19 vaccines in a local pharmacy.
About Lyn
Lyn Maggs – Mulgrave Road Team Leader
Lyn is a retired Director of Nursing. She trained at the Middlesex Hospital in London, and then worked in the NHS and the Private Healthcare Sector for over 40 years. Her specialisms are in Hospice Care, Radiology, Cardiology and the Care of the Elderly.
About Andrew
Dr Andrew Hoy
Andrew retired from clinical practice as Consultant in Palliative Medicine in 2010. He now  practices as a freelance teacher in palliative medicine, associated communications skills and he works with hospices such as the Princess Alice Hospice, Esher. He was one of the founders of the pioneering hospital-based palliative care team at St Thomas's Hospital, London.
About Andy
Andy Parsons
Andy is a Certified Accountant.
He has worked extensively in design and branding, providing finance advice and business support for over 20 years to media group companies and standalone SMEs.
He set up an Employee Owned Trust and acted as one of the inaugural trustees. He has been involved in the negotiation of the sales of majority shareholdings and managed the roll out of the changes to the new beneficiaries.
He was also a member of the Design Business Association mentor scheme, mentoring up and coming finance professionals.
Danielle Smith
House Manager - Mulgrave Road
About Danielle
Danielle's information yet to be updated
Jean Thompson
House Manager - York Road
About Jean
Jean has been with Abbeyfield Southern Oaks for 14 years having previously worked with the Abbeyfield Society. She is truly appreciated by her residents for her generous attention to their care and well-being and for her experience and wisdom.
Brenda Mendes
House Manager - Purley Knoll
About Brenda
Brenda joined ASO in 2017. She enjoys spending time with residents. Equally, she works hard with the house team to ensure the residents are well cared for and to enhance their enjoyment of daily life at Purley Knoll.
Della Stewart
House Manager - The Old House
About Della
Della became House Manager in early 2018 having previously worked as a relief manager. She has made a positive contribution to the daily life for the residents of Old House who enjoy her company and her cooking.
Martin King
Director of Business and Ops
About Martin
Della became House Manager in early 2018 having previously worked as a relief manager. She has made a positive contribution to the daily life for the residents of Old House who enjoy her company and her cooking.
Jo Taylor
Community Manager
About Jo
Our Community Manager, Jo Taylor, ensures our house teams function smoothly and efficiently. Their many responsibilities include liaison with the House Team Leaders, resident welfare, Health and Safety, staff training and house maintenance.
Mandy Coe is our Finance Manager and  manages the financial affairs of Abbeyfield Southern Oaks for both our supported living and extra care development project. She is assisted by Hermione Dawson.
Jo Taylor is the Community Manager for the Society – a vital role which relies on generating support within the local community for Abbeyfield and turning that into volunteers helping!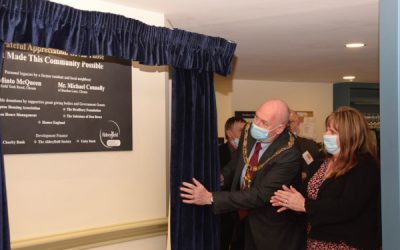 The Worshipful Mayor of Epsom and Ewell Peter O'Donovan unveils the plaque marking the opening of Nonsuch Abbeyfield. Beside him is the Mayoress Mrs Sarah O'Donovan. The event was attended by Andrea Mclean who cut the ribbon,...
Nonsuch Abbeyfield was officially opened by local journalist and television presenter Andrea Mclean who cut the ribbon and Epsom & Ewell Mayor Peter O'Donovan who unveiled the plaque. Local MP Chris Grayling and members of the Abbeyfield trustees team were also...
The number of residents at our new building, Nonsuch Abbeyfield in Ewell, is growing and the community is coming together. Coffee time is a natural time to make friends and meet the others during Lockdown.
We rely on the generosity of people in the local community for their time and skills. Abbeyfield Southern Oaks in a not-for-profit organisation and we aim to keep the cost of accommodation as affordable as possible for our residents. With an eye on the budget, we maintain and improve our homes to a high standard and add regularly update equipment and amenities.
Volunteers offer fresh faces, good conversation, new skills, and most of all company for a walk or shopping.
If you have a few hours to give on a regular basis or you are an entertainer, please contact us using the form.
I always feel welcomed by the residents and the housekeeper and there is a real homely feel about the house.
Spending time together at coffee mornings, lunches or suppers means we have interesting, lively and often amusing conversations.
When it's time to leave I feel that I have gained something from spending time with people whose company I really enjoy.
At York Road many of the residents are involved in activities outside the house with their families and at clubs or local churches.
I am involved with taking some of them to the local Primary School where they talk to groups of children about what life was like when they were young.
There is always plenty of laughter in the house.
Do you have time and skills to share?
Please use the contact form here. We will respond within 2 days and usually much more quickly.
I have been a volunteer at The Old House for approximately 14 years, I've seen many residents come and go during that time, each of them with different qualities: some quiet, some outgoing, some like to be busy, others just like to chat and I enjoy being with all of them.
I attend every Tuesday for our coffee morning when we all get together and put the world to rights. We share our stories and mine are usually what I've been up to during the week.
We've had many trips out for lunch or afternoon tea and often at a garden centre. A favourite place to visit is The Isabella Plantation. We had a great trip on the river Thames from Kingston to Richmond where we had lunch.
I believe our residential homes are perfect places for people who no longer want to live alone, they aren't too large, therefore very homely.
I have been a volunteer with Abbeyfield for over 30 years holding different roles and responsibilities.
At present I am on the house committee at our Abbeyfield house in Purley where we have 10 residents. We are responsible for working with the staff to provide a happy home for our residents.
Visiting the residents and organising outings and activities is one of the greatest pleasures in volunteering for Abbeyfield. I always get a warm welcome and a feeling of being appreciated.
One of our residents is obsessed with transport especially trains and buses. For his birthday present last November we gave him the DVD 'On the Buses', which he loved. Now when I visit the house, if he is in and not out on his daily train journey, I am met at the door with Blakey's version of  'Nice to see you,  What have you been up to?'  That always makes me laugh!
I have made many wonderful friends during my time as a volunteer with Abbeyfield and the sense of satisfaction and achievement are great rewards.
It is a privilege to be working with such a great team both of volunteers and staff.
I hope to study Speech and Language Therapy at University and I am likely to work with elderly patients with communication difficulties in this career, so I wanted to gain some experience working with elderly people to improve my rapport and interpersonal skills with this age group.
I also wanted to be a friendly presence in the house by engaging in conversation (and card games!) From visiting the residents I have definitely improved my conversational skills as well as developing my sense of humour! It has been great getting to know the residents and hearing about their life experiences and I have been taught how to play chess!
FAQ
Frequently Asked Questions
What is 'supported housing'?
Supported housing is for people who are still able to care for themselves and wish to remain independent. They most likely do not want the responsibilities of maintaining a house or flat or a garden but they are not ready to go into a care home. They may also like extra support for things like meals, cleaning and most of all they would like the company of others if they wish. Our supported housing offers that extra help: someone around to offer a bit of security in case they fall or feel unwell. Supported housing is not for people who need more dedicated care. Supported housing is offered at The Old House, Purley Knoll, York Road and Mulgrave Road.
What is 'independent living with extra care'?
Our new facilities at Nonsuch Abbeyfield will offer much greater support for different degrees of independence. We understand that people want to stay in their 'own home' for as long as possible and Nonsuch will offer a wider range of services so that people can stay independent for longer. There is a mix of leasehold and rented apartments which are arranged around a community hub.
You can see much more about the services on the Nonsuch Abbeyfield website.
Is it possible to stay for a while to see if I like it?
Yes! So often people are very reluctant to give up their own home and it takes time to adjust to the idea. We support potential residents and their families in helping with that transition. Staying with us is often the good experience that helps with the decision to become a permanent resident.
We have a four stage process:
1. A viewing of available rooms at the houses.
2. An invitation to lunch to meet the other residents.
3. Completion of our application form to ensure we are a good fit for each other. If you decide to proceed to the next stage, we can arrange a short stay.
4. If all goes well, we agree a date when you can move in.
Can residents have pets?
We do understand how important pets are to older people and we welcome visiting dogs at with their owners. Sadly, we are unable to cater for resident dogs or pets at the houses. Pets will be very welcome at the new development, Nonsuch Abbeyfield.
How often can residents have guests?
As often as they like. Friends and family can join residents for lunch or supper (a little notice is required). In summer the gardens are a glorious place to meet with friends over a cup of tea or a gin and tonic.
Is it possible to have a microwave?
Yes. Each room has a small kitchenette for the preparation of breakfast, drinks and snacks. Residents make their own breakfast which means they are free to choose their own time according to their personal routine.
What happens if I need an operation and some time recuperating?
If you need in-hospital medical treatment and you require extra help for a period, then we work with you and your family or sponsor to make arrangements for that extra care. We do not have facilities for full-time nursing over an extended period.
What other services are available?
Each house has a chiropodist and a hairdresser who visit regularly. Some residents like help with cleaning their own room.
Abbeyfield Southern Oaks requires all contractors, paid by them, to have appropriate insurance cover and a current DBS.
Residents or whoever pays for a service, other than by a Abbeyfield Southern Oaks contractor, for work inside their apartment/bedroom need to make their own safety checks that the person has appropriate insurance cover plus a current DBS certificate and inform the House & Operations Managers of the person's details for fire and insurance purposes.
How much is the rent and charges?
The rental varies from house to house and room to room. There are a small number of rooms which are not en-suite and they attract a lower rental. There is a one-off charge which includes rent, services charges for maintaining and repairing the house, staff costs, 2 home-cooked meals each day, cleaning and care of the common parts, utilities and council tax. Residents cater for their own breakfast and drinks and each room has a small kitchenette. The only extra charge would be for your own phone line and for any additional care needs. For a full breakdown, please contact us.
How often is the rental increased?
A rent review takes place annually in March and is effective from 1 April in each year. However, if a resident joins the community part way through the year then their rent will not be reviewed until the following year's review. For example, if you join us in June 2019 then your rent will not be reviewed until 1 April 2021.
What kind of activities are available to residents?
There are so many activities organised both for and by the residents. It is an essential part of what we do to support social interaction to maintain good health, physically, emotionally and spiritually. Residents have frequent gatherings over coffee and tea, there are exercise classes, games and crafts, volunteers are regular visitors to help with new skills or assist with projects. There are frequent visits to other Abbeyfield homes, trips out to the coast or other places of interest, birthday parties, entertainers, the list goes on and we are always looking for new ideas to keep our lively residents on their toes.
How much interaction is there with the other houses?
There is already a good deal of interaction with other houses and this will become more frequent when the facilities at Nonsuch Abbeyfield are commissioned. Nonsuch is designed as a community hub with a full range of rooms and services including a cinema with comfortable seats, a spa, hairdresser, spaces for musical and craft activities and a restaurant.
What are the parking arrangements?
There is on-site parking at The Old House, Purley Knoll and Mulgrave Road and additional on-street parking at no charge. Purley Knoll also has pay and display. York House has on-street parking.
Can residents invite guests for meals?
Yes they can. We encourage residents to stay in touch with friends and family. Joining for lunch or supper is a very good way of sharing their life with friends. We ask for a little advance notice so we can make sure we cater for everyone!
How should I complain if there is a problem?
We have a very simple complaints procedure which you can download by clicking the link below. "Complaints Procedure"
Company information and regulation
Abbeyfield Southern Oaks is a not-for profit charity. We are both affiliated to The Abbeyfield Society and independent.
Registered Office: Nonsuch Abbeyfield, Old Schools Lane, Ewell, Surrey, KT17 1FL
Registered Charity Number: 247308
The company is Limited by Guarantee and registered in England and Wales: Registration number 734705
Housing Act Number: H1185
ICO Registration Number: ZA472736
Telephone: 020 8394 0050